Our braiding can be both catalytic agent and passive protective casing. As a protective casing, it is a cost-effective alternative to injected-molded casings. Its open construction and materials make it the perfect fit for our OxyCat® catalysts.
In practice, our catalysts are integrated in a customer-specific casing and are then marketed by the customer as a proprietary product.
Disadvantages
Injection-molding tools are expensive and only start becoming profitable when producing six-figure quantities. Whether these are realistic numbers when exploring new business fields is written in the stars.
If changes are made to the design of the device, oftentimes, the casing does not fit anymore. This usually entails unsightly design compromises for cost reasons.
Solution
Our braided casings are both more cost-effective and flexible.
Minimum order: 100 units
For the "5 g OxyCat® granule cartridge" and the "5 cm OxyCat® knitted cartridge" casings shown below, price for empty cartridge (50 mm x 13 mm diameter, loose in bag, for orders of 100 units) is CHF 0.45 a piece, or CHF 6.00 per running meter.
For filled cartridges (granules or knitted fabric), additional charges of the current catalyst price + CHF 0,75 mounting fee apply . Shipping in batches of 100 units, loose in bag.
Colors and dimensions customizable for minimum orders of 250 units.
Manufactured in Germany and Switzerland.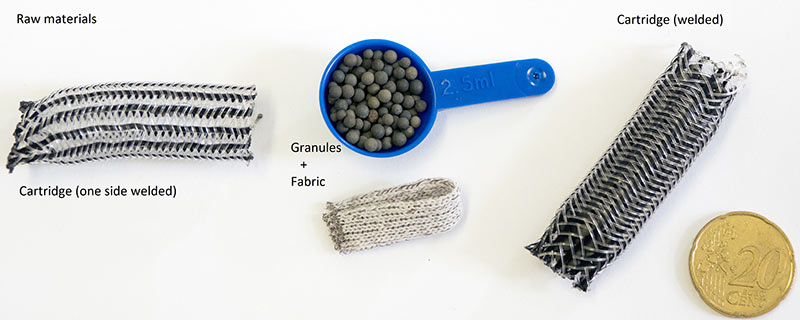 Image: Braided OxyCat® cartridge
Interested? We look forward to hearing from you!
Heinz Stadelmann